簽到天數: 643 天
[LV.9]以壇為家II
本帖最後由 老農民版夜神月 於 2019-3-5 00:03 編輯

這是今年第幾次美國跟該地方負責機構嚴重不同調了?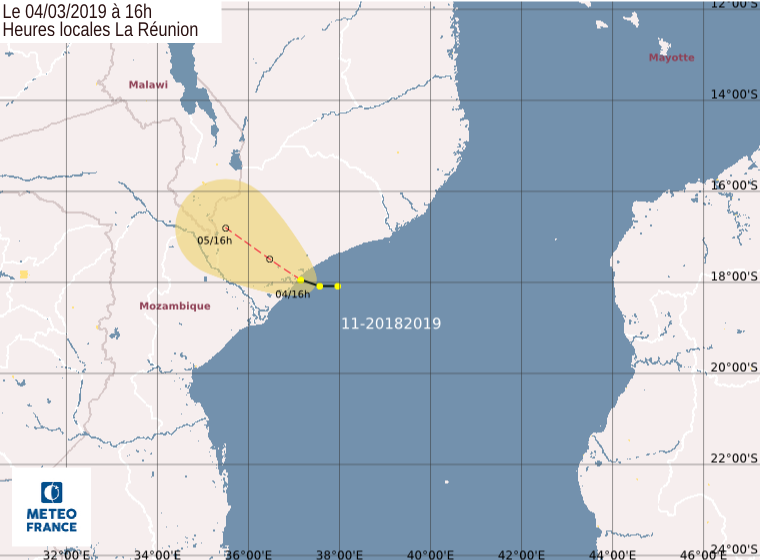 WTIO30 FMEE 041239
RSMC / TROPICAL CYCLONE CENTER / LA REUNION
TROPICAL CYCLONE FORECAST WARNING (SOUTH-WEST INDIAN OCEAN)
0.A WARNING NUMBER: 2/11/20182019
1.A TROPICAL DEPRESSION 11
2.A POSITION 2019/03/04 AT 1200 UTC:
WITHIN 20 NM RADIUS OF POINT 17.9 S / 37.2 E
(SEVENTEEN DECIMAL NINE DEGREES SOUTH AND
THIRTY SEVEN DECIMAL TWO DEGREES EAST)
MOVEMENT: WEST 4 KT
3.A DVORAK ANALYSIS: 2.5/2.5/S 0.0/6 H
4.A CENTRAL PRESSURE: 1002 HPA
5.A MAX AVERAGE WIND SPEED (10 MN): 30 KT
RADIUS OF MAXIMUM WINDS (RMW): 28 KM
6.A EXTENSION OF WIND BY QUADRANTS (KM):
28 KT NE: 80 SE: 70 SW: 90 NW: 80
7.A FIRST CLOSED ISOBAR (PRESSURE / AVERAGE DIAM): 1009 HPA / 300 KM
8.A VERTICAL EXTENSION OF CYCLONE CIRCULATION: MEDIUM
1.B FORECASTS:
12H: 2019/03/05 00 UTC: 17.5 S / 36.5 E, VENT MAX= 000 , OVERLAND
DEPRESSION
24H: 2019/03/05 12 UTC: 16.8 S / 35.5 E, VENT MAX= 000 , OVERLAND
DEPRESSION
2.B LONGER-RANGE OUTLOOK:
NIL
2.C ADDITIONAL INFORMATION:
T=CI=2.5
OVER THE LAST 6 HOURS, THE CONVECTION ASSOCIATED WITH TROPICAL
DEPRESSION 11 HAS MAINLY BEEN MAINTAINED IN CONVECTIVE CLUSTERS NEAR
THE CENTRE, ACCOMPANIED BY STRONG CONVECTION EXTENDING OVER THE
MOZAMBIQUE CHANNEL. THE LATEST INTENSITY ESTIMATES DO NOT ALLOW TO
VALIDATE THE 35KTS THRESHOLD, AS SATELLITE WIND MEASUREMENTS REACH
THIS THRESHOLD ONLY LOCALLY IN THE SOUTHEAST SECTOR. SO SYSTEM 11
WILL ARRIVE ON COAST WITHOUT BEING BAPTIZED.
TROPICAL DEPRESSION 11 IS EXPECTED TO LAND IN THE COMING HOURS ON THE
MOZAMBICAN COASTS, WITH MAXIMUM WINDS OF 30KT, REACHING THE 35KT
THRESHOLD IN THE SOUTHEAST SECTOR AT SEA. THE CONVECTION ASSOCIATED
WITH THIS SYSTEM REMAINS QUITE STRONG, BRINGING REMARKABLE
PRECIPITATION ON THE LANDING ZONE NEAR THE CITY OF QUELIMANE ON THE
MOZAMBICAN COASTS.
FOLLOWING THE IMMINENT LANDING OF THE SYSTEM, THIS IS THE LAST
WARNING ISSUED ON THIS SYSTEM BY LA REUNION RSMC.=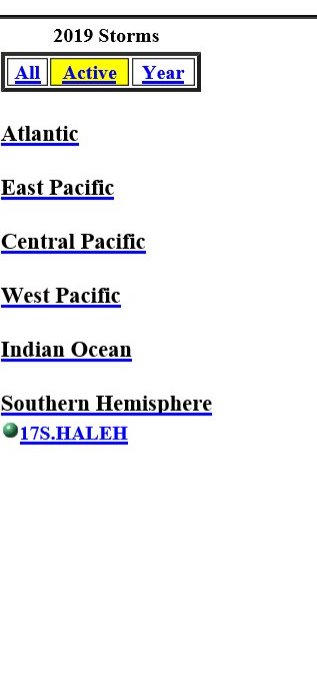 然而美國大約半日前早已撤編...